Buy The DVD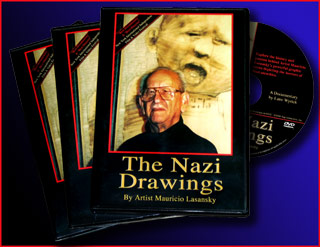 The Nazi Drawings DVD Includes The Award Winning Nazi Drawings Documentary, Plus these Extra DVD Features...
- - - - -
Additional Interviews with Lasansky (20 min.)
Interactively View All Of The Drawings
Director's Commentary Track
Edwin Honig's essay
Lasansky's Bio & Photo Montage
Original Documentary Trailer
Printable Versions of the Drawings & Honig's Essay
and more...
PLUS: The Nazi Drawings DVD includes Public Perfomance Rights
so it can be shared with the public, used in classrooms,
in libraries, etc. (no broadcast or internet transmission)
---
---
Order Online Now

The Nazi Drawings DVD - Just $24.95 (+ $3.95 s/h)
Or to order by phone, please call:

1-319-351-9379
---
---
The Nazi Drawings on DVD

is the definitive compliation and reference source for Lasansky's powerful graphic series The Nazi Drawings.

It includes the award-winning documentary "The Nazi Drawings" with director's commentary option, and has many great new features, including exclusive interviews with Lasansky, the ability to view all of The Nazi Drawings in Detail, Edwin Honig's essay, backgound information, bios and more.