Contact & Bio Info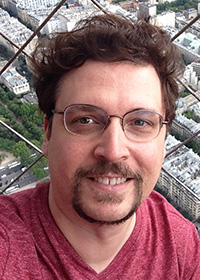 ______________________

Lane Wyrick - Director/Editor
Email: Productions@LaneWyrick.com
Phone: 1-319-351-9379
______________________
Lane Wyrick is a Film School graduate from the University of Iowa. During his college years, he worked extensively in both video and 16mm film production and was the first place winner in the Midwest Regional Competition of the Student Academy Awards for his experimental film "Culture Shell". He was also awarded the Princess Grace Foundation Scholarship for his 40-minute 16mm comedy "Life is Eterminal".
After graduating with high distinction in 1990, Wyrick spent four years in Los Angeles working as a production assistant and in various other capacities on feature film productions including "True Lies", "Man's Best Friend", "Dead Connection", as well as on several television projects, music videos and commercials. In 1994, Wyrick worked as head of an Illinois-based Multimedia & Interactive Design Department.
Wyrick returned to his hometown of Iowa City in the fall of 1995 and formed Xap Interactive, Inc., a digitally-based video, film, and DVD production company to offer a venue for his creative and entrepreneurial aspirations. Through Xap Interactive, Wyrick produced a wide variety of projects from event videos, DVD-based touchscreen information systems, surgical procedure videos, commercials, corporate videos and documentaries.
He is now working full-time at Quality Medical Publishing in St. Louis where he is Director of Video Production and Editing where he produces medical and surgical videos around the country for web and DVD distribution, while he is continuing to find innovative ways to reach audiences with the following three productions. To find out more, visit www.LaneWyrick.com.
---
The Nazi Drawings Documentary
In November 1999, Wyrick completed "The Nazi Drawings" documentary, which is the first major short documentary by Wyrick, who served as director, cinematographer, and editor on the project. The documentary explores the history and passion behind artist Mauricio Lasansky's powerful graphic series depicting the horrors of Nazi atrocities, and has a very strong anti-violence message.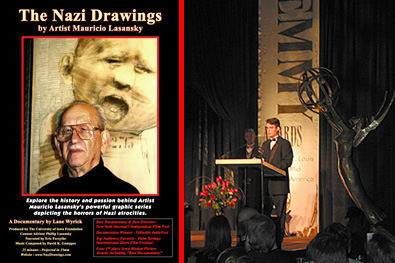 The Nazi Drawings has won numerous awards including the Mid-America Emmy Award for Best Documentary, and Best Documentary & Best Director in the New York International Independent Film Festival, and was broadcast across the nation on PBS stations during Holocaust Remembrance Month in 2005 (to learn more, please visit www.NaziDrawings.com).
You may also purchase The Nazi Drawings here:
---
XapVision Nature Scenes
Another major production by Wyrick is XapVision Nature Scenes - an original DVD production featuring nearly three hours of beautifully filmed, relaxing and engaging scenes and sounds of nature.

Wyrick spent three years filming literally hundreds of scenes of nature using a high-end digital production camera to capture the beauty and detail of the natural world. He then compiled what was originally four separate DVDs into one "super-length" DVD that is nearly three hours long, and now available for purchase online.
The XapVision Nature Scenes DVD was first designed for Hospitals, Hospice Organizations, & Nursing Homes, but it has now become a major hit with the general public as an enjoyable and unique DVD that provides a "window into nature" and can be enjoyed by people of all ages (more info at www.NatureScenes.com).
You may also purchase XapVision Nature Scenes here:
---
A Friend Indeed - The Bill Sackter Story
Wyrick recently completed his first feature length documentary, "A Friend Indeed - The Bill Sackter Story".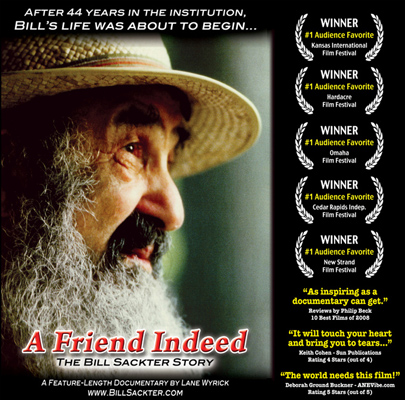 After being approached by Academy Award Winning Screenwriter Barry Morrow in 2001 with the idea of creating a documentary about the real Bill Sackter, Wyrick spent several years researching, gathering photos, film & video footage, and discovering the heart of the story.
After the premiere at Hancher Auditorium in Iowa City, "A Friend Indeed" has gone on to be the #1 Audience Favorite in five consecutive film festivals.

"A Friend Indeed" has been inspiring new audiences with public screenings, DVD sales, and now instant distribution to a worldwide audience through YouTube.
For more information on filmmaker Lane Wyrick please visit www.LaneWyrick.com
You may also purchase A Friend Indeed - The Bill Sackter Story here:
---
---
If you would like to purchase the Lane Wyrick Production DVD 3 pack, which includes a DVD of A Friend Indeed - The Bill Sackter Story, XapVision Nature Scenes, and The Nazi Drawings (at the buy 2 get 1 free price of just $49.90 with free shipping), please click the following link to order:
---
---
The Drawings



LasanskyArt.com Website Launched


The Nazi Drawings, and an extensive collection of Mauricio Lasansky's work is available on a new website. Click the image below for a high-resolution tour of The Nazi Drawings from start to finish, as well as other works by Lasansky.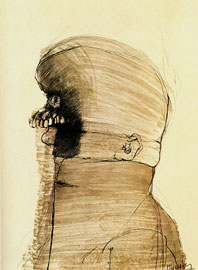 View the entire Nazi Drawings collection

For questions or comments about Lasansky's series The Nazi Drawings or other of Lasansky works,