What's New
The Nazi Drawings Receives Mid-America Emmy Award
The Nazi Drawings documentary received the Mid-America Emmy Award in the Documentary Category given by the National Academy of Television Arts and Sciences.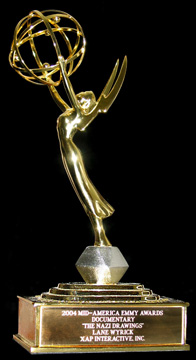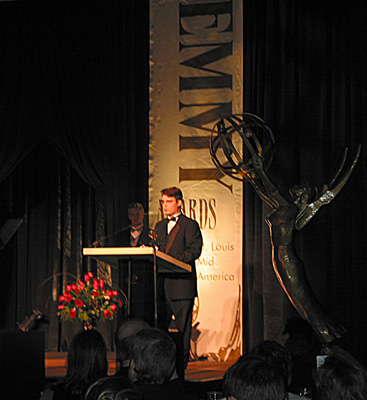 The Ceremony took place at the Hyatt Regency in St. Louis Union Station Ballroom on October 16, 2004, and represented talent from seven states across the midwest.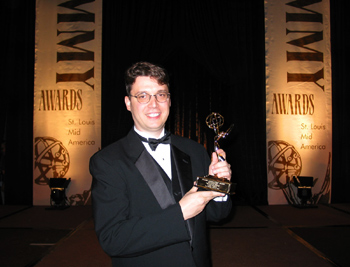 The Nazi Drawings was qualified for entry into the Emmy competition for its two airings on Iowa Public Television during Holocaust Remembrance Month in 2003 & 2004.
---
The Nazi Drawings Broadcast Nationally on PBS Stations
In conjunction with NETA (National Educational Telecommunications Association) The Nazi Drawings documentary was broadcast nationally on a soft feed to all PBS stations nationwide, where many stations across the country picked up the documentary and aired it during Holocaust Remembrance Month.
---
The Nazi Drawings Now Available on DVD
Now available on DVD, the Nazi Drawings Documentary, along with  many added bonus materials is now available to order.  Click here for more info.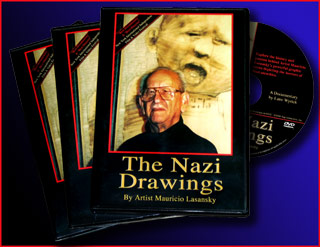 This DVD is the definitive compilation about Lasansky's Nazi Drawings, and includes extra exclusive interview footage with Lasansky, interactively viewable images of all of the Drawings, Edwin Honig's insightful essay, and much more.

---
Lasansky's Nazi Drawings exhibited at the Cedar Rapids Museum of Art in Fall of 2004
The Cedar Rapids Museum of Art exhibited the entire collection of The Nazi Drawings series by Mauricio Lasansky. Viewers had a chance to see the drawings in person, for the first time in over six years.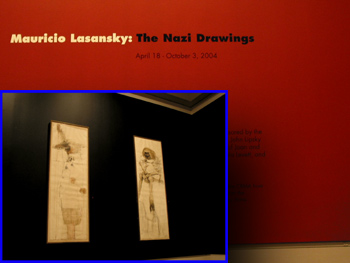 ---

Nazi Drawings Holds Los Angeles Premiere

Filmmaker Lane Wyrick speaking to audience of over 500 at the Los Angeles Premiere of "The Nazi Drawings" documentary at the Directors Guild Theater
The Nazi Drawings Documentary Los Angeles Premiere Event is named CASE Winner of the Seal of Excellence Award, a prestigious national award for Alumni Events. Read more about the LA Premiere and see the video of the event.
---
The Nazi Drawings Documentary Wins Numerous Film Festival Awards
After the Public Premiere of "The Nazi Drawings" Documentary, the documentary went on to win numerous awards and was exhibited in film festivals across the country. Read more details about Festivals & Awards.