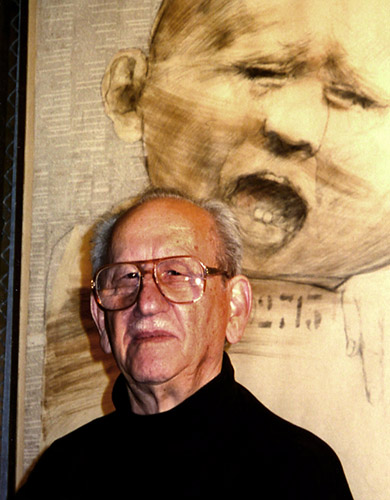 | | |
| --- | --- |
| | Artist Mauricio Lasansky stands next to one of The Nazi Drawings. He completed the series of 33 drawings in 1966. |
"Dignity is not a symbol bestowed on man, nor does the word itself possess force.
Man's dignity is a force and the only modus vivendi by which man and his history survive.

When mid-twentieth century Germany did not let man live and die with this right, man became an animal.

No matter how technologically advanced or sophisticated, when man negates this divine right, he not only becomes self-destructive, but castrates his history and poisons our future.

This is what The Nazi Drawings are about."
-Mauricio Lasansky, 1966
| | |
| --- | --- |
| | "The Nazi Drawings" is a series of pencil, wash and earth-color drawings with collage that examine the brutality of Nazi Germany. |
| | |
| --- | --- |
| They are a powerful expression of the profound disgust and outrage Lasansky felt after viewing a US Military documentary showing the victims and aftermath of Nazi atrocities. | |
Lasansky worked intensively for six years to create the series which consists of thirty individual pieces and one tryptich. The figures in the drawings are lifesize and larger in dimension.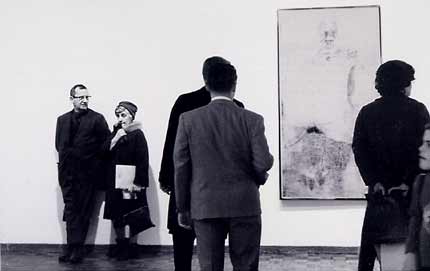 Since their completion, The Nazi Drawings have been exhibited in many prominent art museums, and have received widespread public attention.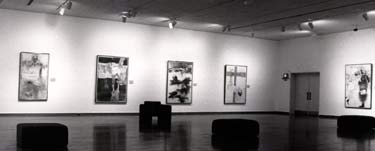 | | |
| --- | --- |
| | In 1967, The Nazi Drawings, along with shows by Louise Nevelson and Andrew Wyeth, were the first exhibits installed at the new Whitney Museum of American Art in New York City. |



Lines wrapped around the block with people awaiting entrance to the exhibition. Articles were published about The Nazi Drawings in Time and Look Magazines as well as The New York Times and the Wall Street Journal.

| | |
| --- | --- |
| | The Nazi Drawings continue to connect on a highly visual and deeply emotional level with observers of all ages. |
The Richard Levitt Foundation purchased The Nazi Drawings in 1969, and they now reside at The University of Iowa Museum of Art. They continue to travel to other museums every few years and occasionally can be seen on display in the Lasansky Gallery at the Museum.